Description
Limited stock available for our galaxy projector
EXPLORE THE STARS AT HOME WITH OUR GALAXY PROJECTOR

The GALAXDREAM™ Galaxy Projector is a window giving you access to the magic of the universe from the comfort of your home. It engulfs any room in a sea of stars, colors and light. Immerse yourself in the wonders of the outer space, walking your mind between galaxies, star clusters and nebulae.
This stylish and compact star projector offers endless projection effects and user-friendly features in an interactive way.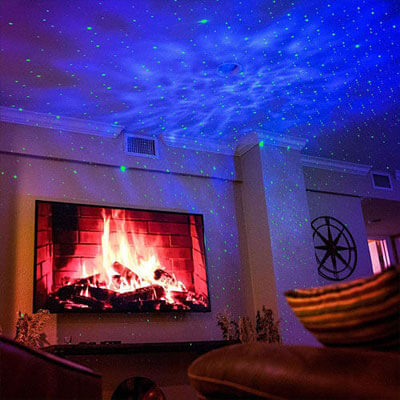 GALAXY PROJECTOR, THE SKY AT YOUR FINGERTIP
Let your imagination run wild under the sky, forming constellations in the comfort of your home and fall asleep under a blanket of stars. The GALAXDREAM™ planetarium projector and its plug & play installation lets you transform the atmosphere of your living space instantly, bringing magic home.
HARMONY OF SOUND & LIGHT
The GALAXDREAM™ star projector casts an ethereal symphony of the night sky onto every surface light can touch. With our exclusive MusicSense™ technology, play your favorite music and watch the alluring light display react in perfect harmony.
Our exclusive touch control sensor technology lets you choose between 6 static or cyclical color-combination modes. Shape the universe your way at the push of a button and let light and music merge together.
PORTABLE GALAXY PROJECTOR
Bring the universe with you to your next party spot and impress your friends, make your children's eyes shine with stars and enjoy the relaxing atmosphere of your bedroom or living room under the stars for unforgettable evenings with the GALAXDREAM™ night light projector.
WHAT'S IN THE BOX – YOUR GALAXY PROJECTOR
GALAXDREAM™ Galaxy Projector
Micro USB Charging Cable
Power Adapter
Instruction Manual
SHIPPING & DELIVERY
All orders are shipped with tracking within 24 to 48 hours of you placing the order using USPS, Canada Post or other carriers depending on your location and fastest available service. Typical delivery time frame is between 6 to 12 business days. All orders are shipped with a tracking number and you get free shipping. Easy 30-day free return.
Powered by HTML5 Responsive FAQ
THE MOON
Are you also fascinated by the Moon? Take a look at our Moon Lamp.
FAQ
Does the projector have a timing function?
Yes! It has an automatic timer shut-off function.
Can it be recharged?
Yes! It definitely can be charged with a USB charger and the battery lasts for 5-6 hours.
Can I turn off the moon?
Yes you can, just press the dedicated button.
Do you offer a warranty for this product?
Yes! We do offer a 2-year warranty for our products. If there is any problem, please contact us via our dedicated page.
What are the technical specifications of your projector?
GALAXDREAM™ Galaxy Projector specifications:
Mobile and rechargeable
Projection light source: LED
Green laser: 505-520nW (<1mW)
Projection coverage: 161-215 sq.ft (15-20㎡)
Battery capacity: rechargeable lithium battery 2000mAh
USB cable length: 1.25m
Power supply: 7.5W
Timer: 4 hours
Projected Area:
–  Distance of 5 meters: 40㎡
–  Distance of 8 meters: 60㎡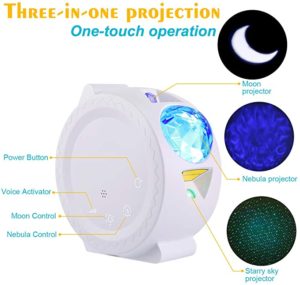 Powered by HTML5 Responsive FAQ
Immerse Yourself into the Universe
Turn your living room or your children's bedrooms into a space exploration dream and enjoy the relaxing effect